What to Bring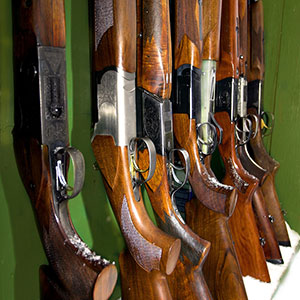 Whether you're at a complete loss for what to bring or you just want a quick recap before heading out, make sure you have these essentials. Hunts on the ranch have several differences from a traditional hunt on public land. Hunter orange is not required, for example. Most of our hunters wear subtle camo fabrics. Read on for the rest of our recommendations.
Binoculars and Rangefinders
You will want binoculars that are lightweight; 10×40 or 12×50 work well for the country we hunt. We also recommend the Crooked Horn Bino-System or something similar as a carrying strap.  Or look for our favorite Badlands bino/rangefinder harness, called the BINO XR X Case (www.badlandsgear.com) It is so nice to have to protect your gear from snow and debris while having it strapped into a quiet easily accessible case.
Rangefinders can really increase your shooting accuracy. Being on the ranch's varied terrain and shooting an animal more than twice the size of a whitetail can mean your shots will likely be shorter than normal. There's no better way to fine-tune your judge of distance than with a rangefinder, especially when bow hunting. Also, be sure to bring your camera!
Boots
We recommend bringing two pairs of footwear: A lightweight pair to use around the lodge, and the second should be comparable to Gortex, leather, 200 gram, 8″ high boot, you'll probably use this the most. Depending on the time of year that you hunt, you may want a 600-800 Thinsulate leather sided boot, this is for colder temperatures that you might encounter, more common during later hunts. Our weather is quite unpredictable though, and Mother Nature never seems to know when later is.
Climate, Altitude, & Hydration
The weather during hunting season can be anything from 70's and sunny to 10 below zero. Check the forecast before you come to help give you an idea of what to expect. If you are coming from sea level, you will experience 15% less oxygen at our altitude of 7,000 ft. It generally takes a day and a half to acclimate. Staying hydrated is the best way to ward off nausea, fatigue and headaches. Carrying a water bottle is critical to keeping up on the hunt.
Clothing & Staying Warm
Layering your clothing helps, as it's much colder in the early mornings than in the afternoon. Also bring some moisture-wicking layers and wet gear in case of rain/snow. The warmth and breathability of cotton is hard to beat, but there are several other synthetics on the market that work well too. It's a good idea to bring two pair of gloves, a warm hat a heavy coat and warm socks (smart wools).
Calls
A simple cow call is the most important call to have. Cow calling after a bull is hit will also settle him down, and generally he won't go far. The best cheap cow call is a diaphragm. Another great easy call is the Primos Hoochie Mama call. It's easy to use and produces a great, consistent sound. Typically, your guide will use a bugle or calls on certain days to locate the elk, so you may not need to use at call at all.
Archery
Physical Condition & Typical Shots
Intercepting, shadowing and using calls can be strenuous work. Being healthy and physically fit will increase your accuracy greatly while archery hunting. It takes great skill to make a kill being winded, full of adrenaline and being in the high country. If you can practice this scenario at home, the better off you'll be. Shots from sitting, kneeling, uphill, downhill, through timber and around obstacles (branches) are common.
Bows, Broad heads, and Sights
Most of our hunters use compound bows that shoot up to 300fps. Draw weights are between 65-80#. Expandable broad heads are not getting the penetration we need on elk. They do fly better but we have had deflection and malfunctions. Fixed 3 bladed 100-125 chisel tips are good. Ideally we want a complete pass through. Two holes in an elk, means more blood to follow. Multi-pin sights are most common now and have replaced the adjustable single pin sights. Most common pins are 20 – 60 yards. Durable sights that have protective covers around the pins are best and are the most common piece of gear that break.
Rifle
Sighting in & Rifles
Zero in your rifle at 200 yds, or 2″ high at 100 yds depending on your rifle. Your goal should be to shoot a 2″ group at 100 yds consistently. Our average shots are 75-150 yds. There is also a possibility of shooting a 10-20 yd shot in the trees if we can bugle them in. Know your bullet drop at 200, 300, 400 yds. Bipods, tri-pods and shooting sticks are helpful, but not necessary. There are trees, logs or rocks in many locations to get a good rest on. Some of the most common elk rifles are: .338, .300, .7mm, .270, .280, & .30-06. We recommend at least 150 grain bullet. Remember, if you are flying, the airlines require a locking case and bullets need to be stored separately. Please check with your travel agent or airline for particulars on traveling with weapons. If you don't want the hassles of flying with your gun, we will rent you a gun and some ammo for $75 or you can ship your gun to us ahead of time so it will be at the ranch waiting for you when you arrive.
Summarized Checklist for What to Bring
Binoculars
Range Finder
Hunting Knife
Water bottle
Camera & batteries/charger
Camo Clothing
2 lt weight shirts & 2 flannel/wool shirts
Long Johns
Wool pants (subject to cold weather)
Warm socks such as wool
Underwear
Swimming Suit
Comfortable shoes for camp/lodge
1 pair boots with good tread
(insulated, waterproof & light hiking)
Hats – 1 warm stocking & 1 baseball cap
Gloves – 2 pair (wool is good choice)
Wool or cotton warm outer coat
Rain gear- nylon or rubber coat/pants
(not plastic- as quiet as possible)
Toiletry items
Sun glasses
Sun screen
Prescription glasses / contact lens
Prescription medications
Lip balm
Bring your own drinking alcohol if needed
Rifle Hunts
Rifle/scope with sling
Ammunition (at least one full box)
Familiarity of your rifle
Archery Hunts
Camouflage clothing in brown & grey colors
Camouflage paint
Hard case for bow
Extra bow string
Compound bow stringer
Pliers
Extra peep sight
Broad heads 12-18 arrows/hunter
(

ONLY

 Broad head & shafts suitable for elk)